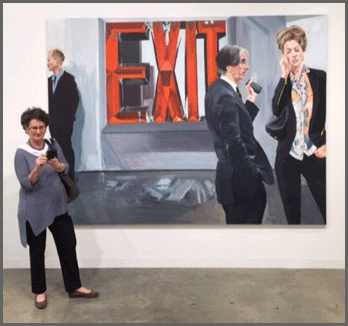 Erich Fischl.  Art Fair Exit.  

ADVISOR, APPRAISER, AND EDUCATOR
Hope Davis opens new doors to appreciating art and enjoying the art world. With knowledge, market savvy and enthusiasm, she guides novice and experienced collectors to explore the traditional world of 19th and 20th century art as well as the complex, rapidly changing contemporary art environment. Hope's approach is highly individualized to reflect the interests of her clients. Supporting advice with research and market analysis, she acquires art that makes sense and provides life-long pleasure.
Hope's expertise is based in four decades of experience in the art world. An alumna of Sotheby's and Knoedler Gallery, she has been a private dealer, advisor, and appraiser, a museum trustee, and community educator. Her clients benefit from the extensive network of relationships developed over many years with auction houses, galleries, private dealers, and collectors.